About Our Founder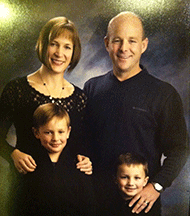 Tod Cunningham lives in Fallbrook, California with his wife, Sharae and two sons.
Tod grew up in eastern Washington state and then served in the military for 4 years after which he then settled in Seattle.  After getting married, they moved to California so Tod could join a drug and alcohol treatment center to help people with substance abuse problems.
Tod had a challenged youth and somehow beat the odds in the end to be healthy and a successful entrepreneur.  He thrives on helping youth and adults alike with all aspects of their lives.
In 1978 Tod, at the age of 19, founded Consumers Interest' and a youth work program to help youth have productive, safe summers.  The youth earned money and attended weekly mentoring meetings by local businessmen to learn about all aspects of business including education, professionalism and ethics.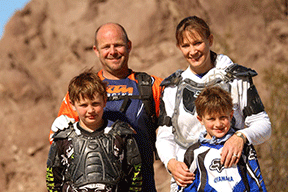 Today, Tod has a great passion for his children and the community's youth.  He feels it is a great responsibility to raise children to be successful in all aspects of their lives.  Our youth have many different choices and paths they can take; guiding them down the right one can be a full time job.
Tod is a certified Prevention Specialist and has spent the last nine years working within the substance abuse industry.  He has recently resigned his full time position at the treatment center to focus on consulting and raising his 2 boys in Fallbrook.  His goal is to help his boys and the communities' youth get the edge on life during their years in school.  He also is available to help anyone with a substance abuse challenge.
Julie Trafford 
Skilled special needs teacher with the ability to work with children of various intellectual, behavioral and physical challenges. Strong communication skills with parents concerns and anxieties for their children starting preschool by truly listening with compassion and validating their concerns. Child advocate with over 11 years experience working in a student-focused learning environment helping  students improve their literacy and behavioral needs. Julie is truly thankful for her gifts of love and patience she has for children and parents. Julie has been guest speaker at Palomar College Child Development Department to Student and Teachers about Anti-Bulling programs. Lee Hirsh movie "Bully" is the bases of the teaching.
Core Qualifications
Able to adapt to each child's temperament
Active participation establishing in MOPS from ground up at North Coast Church
Diverse classroom environments
Creative imagination stimulation
Strong collaborator
Clear public speaking skills
Behavioral/cognitive skills development
Experience working special needs students
Effectively works with parents
Positive learning environments
Effective class management
Validating parents concerns of development and behaviors
Creating a loving safe environment for children to thrive
Having love for children unconditionally and helping them to shine in all circumstances

Fun!: Learning through an enjoyable environment helps us all absorb concepts quicker
Challenging: Becoming better prepared for the tests of life
Accountability: Realization of the power of responsibility
Alcohol and Drug-Free Lives: Start off on the right foot for a successful future
Safe: Our facilitators are educated in the field of substance abuse prevention, peer pressure and other obstacles that today's young person faces
Affordability: At The Edge, we strive to provide the best possible services, while acknowledging the fact that today's family does not have the extra resources to spend on anything unnecessary

Knowledge of Material: Attendees have continual access to all educational tools that are used at The Edge while attending the program
Accuracy of Understanding: Assessment of the attendee, as to their comprehension of the concepts being taught, throughout the curriculum
Ability to Apply Concepts to Everyday Life, Without Hesitation: Take the skills learned through attending The Edge, and start relating them to daily circumstances